Historic Remains
UNESCO World Heritage Seosamneung / Seooreung royal tombs
Tombs for Kings of Joseon including Seooreung and Seosamneung are recognized their value as the world's cultural heritage base on their Confucian and geomantic tradition of unique structure and landscape architect style. They are registered as UNESCO's World Cultural Heritage on June 26, 2009.
Seooreung Royal Tombs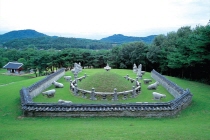 Seooreung is a name of five tombs of Joseon Kings' era such as Gyeongneung, Changneung, Ingneung, Myeongneung, and Hongneung. Besides these 5 tombs, there is a tomb of Sunchangwon, Sunhoe crown prince who was an oldest son of King Myeongjong and the first 'Won' of Joseon's era. There is also Daebinmyo of Huibin Jang who left many historical anecdotes through pursuing questions from King Sukjong. Seooreung has the second largest area after Donggureung and it is the family tomb of Joseon kings' family. It is located on the local street that connects to Galhyeon-dong, Eunpyeong-gu, Seoul to Goyang City Hall.
Location
334-92, Seooreung-ro, Deogyang-gu (Yongdu-dong san475-95)
Public transport
Subway

Nokbeon Station(Line 3), exit 4. In the direction of Eunpyeong-gu Office → 9701 Express city bus, 702 Intra-city

Bus

Gusan Station(Line 6), exit 1 → 9701 Express city bus

Bus

702 Intra-city Bus(Direction of Seooreung Royal Tomb entrance), 9701 Express city bus
date of final modification : 2019-08-12 10:59:57