Introduction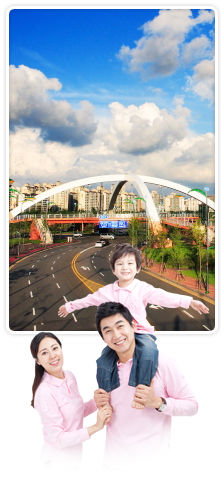 Goyang,

the city possesses nature, history, and composure of life

Goyang city is becoming one of the 21st century's representative cities in Korea that is based on time-honored history and tradition. Goyang city has been transformed as the best city with optimum city-infra through regional economic vitalization, environmental friendly residential area, convenient transportation system, international level of cultural sports facilities, well balanced welfare system, residences-centered and honest administration, and high value of industrial facilities.

Goyang city is famous for International Flower Foundation, and becoming center of international trade through multi complex of culture and trade - International General Exhibition. Also, it is developing as an environmental friendly city through Gongwondolbomi campaign (caring park) based on active involvement from residents.

Goyang city is located north of Seoul (capital of Korea), and it can be easily accessed through Seoul Ring-Expressway and No. 1 & 2 Jayuro-Expressway from adjacent area or can be reached in 20 min. through establishment of city rails and metropolitan area express rails such as subway line number 3, Gyeongui Line(Railroad) and KTX. The further establishment of smart transportation system is in progress through increasing the tracks of Gyeongui Line.
date of final modification : 2019-10-31 14:40:47