Residence
Pleasant City, Goyang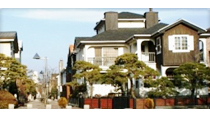 Goyang is designed to posses a larger scale of green belt area than other cities and trying continuously to preserve the environment to make a pleasant city, Goyang.
Ilsan Rural Residential Units
The rural residential units around Jeongbalsan Mountain is called 'Beverly Hills' in Ilsan and 2~3 floored beautiful houses that are made of woods, bricks, red-clay, and marbles, are very attractive. There are many tourists who visit here every year and it is a well-known place for film location such as TV-dramas, movies, or wedding pictures.
Convenient Transportations and Eco-Friendly Living Environment
Goyang is trying to develop clean rivers, green lungs, and tree planting works through many campaigns such as "Goyang Afforestation Plan" to form an eco-friendly and pleasant living environment.

Goyang is located north of Seoul, the capital of Korea, so it is very convenient to approach through #1, #2 Jayuro-Expressway and Seoul Ring-Expressway which can lead to the city. Also, it establishes to maintain the best public transportations through subway 'Gyeongui Metropolitan Line,' urban railroads, and its multi-tracks.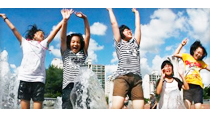 Goyang is a paradise of bicycles.
Guide for the public bicycle rental service, 'Fifteen.'
What is 'Fifteen?'
It is Goyang public bicycle rental system which is located in entire Goyang so it is very easy to rent / return bicycles at your nearest 'FIFTEEN Station' after purchasing a membership card or mobile phone accreditation.
It is eco-friendly transportation for short distances combined with information & communication so you may use this system at any time and anytime and anywhere in Goyang
Guide
Persons who can useㅣ Anyone who are over 13 years old (according to the traffic law, children must be equipped with protective year) For those who are between 13~16years old must need a legal guardian's consent.
Hoursㅣ Open to the members 24/7
How to use

[If you are a member]
sign up for a membership card at Fifteen website (need to confirm the membership number)
You may purchase an associate membership at Seven Eleven (convenience store)
You may touch the membership card to the card reader to rent bicycle. return after use
[If you are not a member]
You may rent after approval of mobile phone accreditation from the manless card reader. return after use

Membership fee

[membership]
for 3months 20,000won / for 6months 40,000won / for 1year 60,000won
[extension]
You may extend it by 3/6/12months

Details

[members]
FifteenLife (website) Use after applying for membership and receive a card / confirmation
Using less than 40minutes : need to return within in 40minutes and rent again (unlimited)
Exceeding 40minutes : applies late charges
[non-members]
may use after mobile phone accreditation from manless card reader(KIOSK)
minimum 40minutes : 1,000won / exceeding 40minutes : will be applied late charges

Please refer to the website 'www.fifteenlife.com' for more details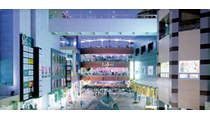 You may enjoy pleasant views around the Lake Park which can be easily all of the areas due to the well-paved bicycle road.
Goyang approached from provides you a pleasant, the eco-friendly environment as well as convenient shopping surroundings. Shopping malls, large sized super markets, People in Goyang enjoy convenient, luxurious life through shopping malls, large size super markets, Lafesta and etc.
date of final modification : 2018-11-25 17:26:50