Investment circumstance
Northeast Asia Central City
More than 20 big cities are located around Goyang within 1hour and 30minutes and within 5hours apart, there are 200,000,000 consuming population.
South-North Trade Center and Important Traffic Center
It is very convenient to approach Incheon international airport & Gimpo airport and also Jayuro-Expressway, Ring-Expressway around Seoul, both subway line number3 & Gyeongui Line, and KTX pass through. It is expected to construct express railroad which would take only 20minutes to Gangnam when it's completed. Also it is located 42km away from Gaeseong industrial complex so it will be an important traffic center and South-North trade center.
International Exhibition, Convention Industry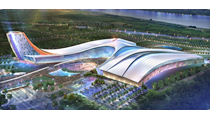 International Exhibition, Convention Industry KINTEX Exhibition Center #1 is equipped with the greatest exhibition·convention center, size of 6 soccer fields (54,176㎡), in Korea which has advanced business infrastructure of international exhibition center, international conference hall, additional facilities and etc. When KINTEX Exhibition Center #2 is completed in September 2011, it will become the 4th in Asia, 35th in the world in scale.
Also from 2012, many businesses will be opened such as Kintex hotel, Goyang China town, sports mall, HallyuWorld, aquarium, large size of shopping center around KINTEX area so this will turn out to International Convention Town for international exhibition & conference, sight-seeing, shopping, accommodation.
Blissful City for everyone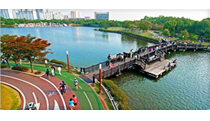 Lake Park is the biggest man-made lakeshore, size of 1,034,000㎡ (lake itself is 300,000㎡) in Asia which is equipped with affiliated facilities such as singing fountain, cactus exhibition center, flower exhibition center, traditional garden, ecology experience park. This is living modern-life area where has Goyang International Flower Foundation, Goyang Korea Flower Show and many other festivals and exhibitions are performed.
World Standard Business Central City
"Selected as World's most dynamical developing top 10 cities" (2006. 7. 3; Newsweek)
From "2008 International Business Award" (IBA) in innovation, awarded 'Stevie Award' (2008. 9. 8 Stevie Award)
date of final modification : 2018-11-26 09:38:13