"Goyang has been achieving most of administrative goals such as providing transparent administrative service; building advanced city infra; forming balanced welfare system; developing culture, art, tourism industry; and maintaining clean environment the city."

2,400 of government employees, including the mayor, are putting their best efforts to achieve their administrative goal - making 'transparent administration' through people-centered Goyang city and making administration that is opened to the public.

In order to promote active participation of residents, Goyang city regularly opens a meeting with major where the city can directly listen to the difficulties of people, and apply the improvement to the problems. The city is in progress of various policies such as 'monitoring organization of administrative housewives'.

Also, Goyang city has formed sisterhoods with foreign cities so that it can be developed into advanced city for global era by forming communities and increasing communication between the citizens.

2,400 of government employees from Goyang city provides better administrative services throughout the regular educations, and putting best effort to hold suitable work ability for further development of Goyang city. Throughout the long term vision, the administrative service is provided under the long term development of Goyang city instead of short term result.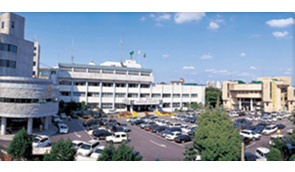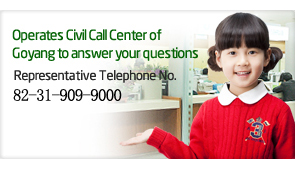 In order to satisfy one million residents and to provide the best administrative services, the most advanced communication system is established, and you can proceed all the civil work through a single phone call to "☎ 82-31-909-9000" without visiting civil administration offices of Goyang city.
Call Center Information
Representative Telephone No. : 82-31-909-9000
Business hours during weekdays : 8 a.m. ~ 7 p.m.
Business hours during weekends and holidays: 9 a.m. ~ 6 p.m
Counselling hours for foreigners: 9 a.m. ~ 6 p.m.